---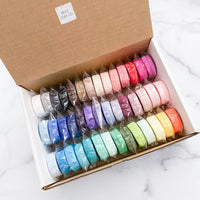 FOE DESTASH - Large Box Solid Color
Fold over elastics in 42 colors, 3 yards per color. Total of approximately 126 yards.
NOTE : SINCE THIS IS A DESTASH, WE ONLY HAVE LIMITED AMOUNT OF EACH COLOR. SO IF ONE OF THE FOE COLOR NO LONGER AVAILABLE WE WILL REPLACE WITH THE CLOSEST AVAILABLE OR WITH OTHER COLOR!!
These are WHOLESALE PRICE!!! Please check Etsy for your reference.
Fold over elastics can be used as a hairties, headbands, adjustable bowties, and for other sewing purposes.
To use as a hairtie just cut them in approximately 9" to 10" long, fold them in half lengthwise and make a knot.
* All text and photo copyrighted by Belle Clay Co *