---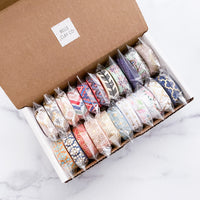 FOE DESTASH - Small Box Boho/Tribal Prints
Fold over elastics in 22 different prints, mix of floral, foil prints, ruffle and solid color FOE. 2 yards each print or color with a total of approximately 44 yards.
NOTE : PRINTS WILL BE CHOSEN RANDOMLY ACCORDING TO WHAT'S IN STOCK!!
These are WHOLESALE PRICE!!! Please check Etsy for your reference.
Fold over elastics can be used as a hairties, headbands, adjustable bowties, and for other sewing purposes.
To use as a hairtie just cut them in approximately 9" to 10" long, fold them in half lengthwise and make a knot.
* All text and photo copyrighted by Belle Clay Co *